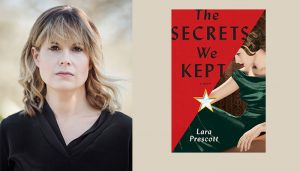 The Greenbrier Book Club will meet the fourth Tuesday of each month at 6:00 PM.
The February meeting will be at The Chop House on Richmond Road on the 25th. Join us for dinner and a discussion of The Secrets We Keep by Lara Prescott.
The Secrets We Kept is a thrilling tale of secretaries turned spies, of love, duty, and sacrifice. Inspired by the CIA plot to infiltrate the hearts of Soviet Russia, not with propaganda, but with the greatest love story of the 20th century: Doctor Zhivago. From Moscow and the Gulag to D.C. and Paris, The Secrets We Kept captures a watershed moment in the history of literature. Told with soaring emotional intensity and captivating historical detail, and centered on the belief that a piece of art can change the world.
Contact Marilyn Sidun at marilyn.s5000@gmail.com for further details.