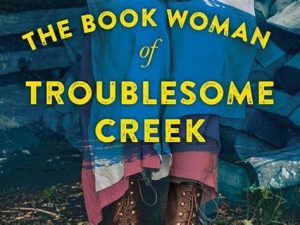 The Greenbrier Book Club will meet the fourth Tuesday of each month at 6:00 PM.
The normal meeting location is the Club House. During the Winter when the Club is closed, alternative arrangements will be made.
The March meeting will be at the Country Club on the 24th. Join us for dinner and a discussion of The Book Woman of Troublesome Creek by Kim Michele Richardson.
A NEW YORK TIMES and USA TODAY bestselling novel, The Book Woman of Troublesome Creek is a powerful message about how the written word affects people–a story of hope and heartbreak, raw courage and strength splintered with poverty and oppression, and one woman's chances beyond the darkly hollows.

Inspired by the true and historical blue-skinned people of Kentucky and the brave and dedicated Kentucky Pack Horse library service, The Book Woman of Troublesome Creek showcases a first in traditionally published literary novels— a bold and unique story about the Kentucky Blue people and Packhorse Librarians — a tale of fierce strength and one woman's belief that books can carry us anywhere — even back home.
Contact Marilyn Sidun at marilyn.s5000@gmail.com for further details.