The start of a New Year means its time to pay your GRI Dues! Our Dues are just $100.00 a year – that's about $8.00 per month – and it all goes back to the neighborhood in ways like these:
Installation and monitoring of entry security cameras.
Year-round maintenance of both front and rear entries.
Communicating with our neighbors via voice mail messaging; newsletter, and a Directory published every two years – like this year!
Supporting neighborhood social events such as Ladies Tea, Garage Sales, etc.
Neighbors can either mail Treasurer John Schmidt a check made out to the GRI or drop it off to his home. We also accepts Dues by PayPal.
Thank you for paying your GRI Dues promptly!
Please mail to:
John Schmidt, Treasurer
3556 Antilles Drive
Lexington, KY 40509
Click to : Download a Dues Form in MS Word Format
Click to : Download a Dues Form in Adobe PDF Format
PayPal users may send a payment to: PayPal@mail.gb-ra.com
Or scan the QR Code in the PayPal App.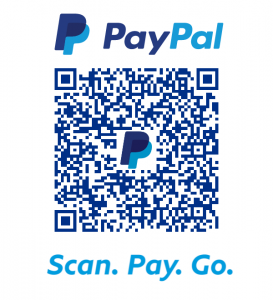 Or click the "Buy Now" button to pay with PayPal.  PayPal is a service which provides secure processing of payments.  PayPal accepts credit card, debit cards and electronic draft from your checking account.  You do not need a PayPal Account.  When you click the "Buy Now" button, you will leave the Greebbrier website and go to the PayPal website.  When you finish you will be returned to the Greenbrier Website