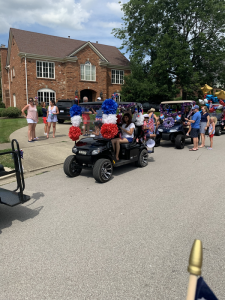 This year's parade was our biggest and best ever with lots of carts, kids and cool decorations.  The event went off without missing a beat in spite of the fire engine being late – they had to fight a fire first – and the Club parking lot off-limits due to construction.
Category winners are:
Most Patriotic group – Tyler and Kelly Street from Antigua
Most Patriotic kid – Nate Coen from Cayman Hts
Best Decorated Pet (Dog) – "Tulip" Brooks from Bahama (awwww! so adorb!)
Best Decorated Golf Cart – The Mittenzwei family from Walnut Grove
Most Spirited – Lilly Polly from Cayman Hts.
Most Extravagant – Ben and Jennifer Allen from Jamaica Ct.
Best Family Decor – Brandt and Charis Brooks & their two little girls from Bahama
Most Original – Ron and Sandy Mollenkopf from Marquesas
Oldest Car – Jeremy and Carly Moore's GTO
Most Unusual – Elizabeth Tatem
Judge's Choice – Beau Griffith from Montego Ct; and
                            Knox Hollifield from Eleuthera Ct.
Congrats to all out winners and everyone who turned out for this fun event on a beautiful 4th of July!